Hello crafting friends! We are joining forces with the fabulous Pink Fresh Studio Creative Team for a fun-filled Blog Hop.
We love how much joy blog hops brings to our customers, so we are brining you a wonderful, creative and inspirational line up. Not only will you be inspired BUT if you leave a comment on each designer's blog, you'll earn a chance to win a 6 powders from your choosing along with a WOW carry case to store you powders safely in.
Pink Fresh Studio will have>>>>>>>>>>
The Winners will be chosen at random from the comments left on ALL THE POSTS of this blog hop by 7th September 2018 and the will be announced on the blog the week of 10th September 2018.
If you haven't checked these guys out, go do so, they are fabulous !!!!
As usual, I keep it simple. I loved working with the Dainty Botanical Stamps and Dies. I love that there's matching dies, the thought of cutting all these little sprigs out would have drove me mad LOL !!
Start by drawing a circle on a card panel, I used a reel of DST.
Stamp and emboss with Gold Rich Pale around the circle, this does two things, it gives you a base shape to work to and it hides the pencil lines.
On a couple of scraps of card stock, choose two of the sprigs and stamp the larger one in Hercules Embossing Glitter and the smaller one in Neptune Embossing Glitter, Die cut.
Adhere the larger ones, slightly offsetting them against the gold stamped sprigs.
For the next layer I trimmed off the ends of the smaller ones to keep it looking neater.
Adhere with foam pads.
Using the word 'Joy' from the Sizzix Tim Holtz holiday words, ink up with WOW! Slow Drying Embossing Ink, cover with Gold Rich Pale Embossing powder and heat set, report, for a really smooth and even more raised finish.
Adhere to the centre, Adhere the panel to card base in a matching colour.
Don't forget to check out all the other fabulous DT Girls !!!
Hugs
Marion xx
Here's what I used: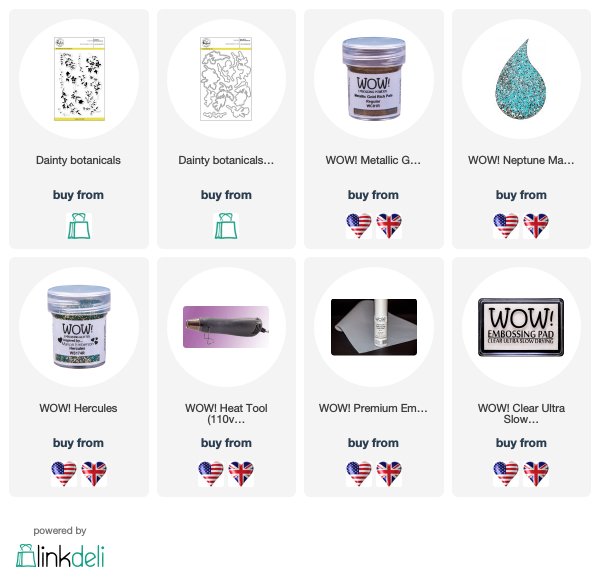 <!-- LinkDeli Code End —>